Excerpts from the opening ceremony of the international premiere of #IlTrovatore which will remain a milestone in the history of our theater.
Ambasciata d'Italia a Tirana European Union in Albania
#IlTrovatore #premiere #nationalopera #Europe #production #opera#verdi #TKOB
"Il Trovatore" is the grand premiere of the January-June 2019 opera season at NTOB. The performance took place on the stage of the Palace of Congresses on 8, 9, 10 and 11 May – 7 pm, in cooperation with the Italian Embassy in Albania and the European Union Delegation in Tirana.
This is an international production, in which foreign and Albanian artists come together. With one of the largest set designs ever made by NTOB, this production is in collaboration with the Italian Embassy in Albania and the Delegation of the European Union.
"Il Trovatore" is a Giuseppe Verdi opera first performed on 19 January 1853 at Rome's Apollo Theater. Together with "Rigoletto" and "La Traviata", this opera is part of the so-called Verdi folk trilogy.
The libretto in four acts is taken from the play "El trovador" by author Antonio Garcia Gutierrez. It was Verdi himself who had the idea of drawing an opera from a work by Gutierrez, entrusting Salvadore Cammarano with the composition of the libretto. The Neapolitan poet died suddenly in 1852, as soon as he had completed the libretto, and Verdi, wanting to make some minor additions or modifications, was forced to seek the intervention of a late Cammarano collaborator, Leone Emanuele Bardare. Verdi himself, inter alia, personally intervened in the final verses, shortening them. The first performance was a huge success: as Julian Budden chronicles. With none of his works, not even with Nabucco, Verdi could touch the public's heart so quickly.
NTOB ORCHESTRA 
Conductor: Sebastiano Rolli
Director: Mariano Bauduin
Assistant director: Ada Gurra
CHOIR
Choir Conductor: Dritan Lumshi
Adaptor of choreography: Alisa Gjoni
Soloists:
Leonora (soprano): Eva Golemi, Dorina Selimaj, Maria Prifti (cover)
Manrico (tenor): Dario di Vietra, Denys Pivnitskyi
Azucena (mezzosoprano): Vikena Kamenica, Ivana Hoxha
Il conte di Luna (baritone): Gocha Abudlaze, Armando Likaj
Ferrando (bass): Bledar Domi, Nenad Jukovljevic
Ines (soprano): Renisa Laçka
Ruiz (tenor): Erlind Zeraliu
Un vecchio zingaro (bass): Solen Alla
Un messo (tenor): Erlind Zeraliu
Set Designer: Dario Gessati
Costume Designer: Berina Kokona
Dancers:
Alisa Gjoni, Kevin Lila,Elona Beqiraj, Denada Hristiç, Amela Prifti, Fioralba Zere, Lurdi Dodgjini, Erald Zela, Evis Heta, Armando Meci.
SYNOPSIS
Act I: DUEL
Spain, early 19th century, during the Peninsular War.
The commander of the Royalist Aragon troops, Count di Luna, is obsessed with Leonora, a young noblewoman in the queen's service, who does not return his love. Outside the royal residence, his soldiers keep watch at night. They have heard an unknown troubadour serenading Leonora, and the jealous count is determined to capture and punish him. To keep his troops awake, the captain, Ferrando, recounts the terrible story of a gypsy woman who was burned at the stake years ago for bewitching the count's infant brother. The gypsy's daughter then took revenge by kidnapping the boy and throwing him into the flames where her mother had died. The charred skeleton of a baby was discovered there, and di Luna's father died of grief soon after. The gypsy's daughter disappeared without a trace, but di Luna has sworn to find her.
In the palace gardens, Leonora confides in her companion Ines that she is in love with a mysterious man she met before the outbreak of the war, and that he is the troubadour who serenades her each night. After they have left, Count di Luna appears, looking for Leonora. When she hears the troubadour's song in the darkness, Leonora rushes out to greet her beloved but mistakenly embraces di Luna. The troubadour reveals his true identity: He is Manrico, leader of the partisan rebel forces. Furious, the count challenges him to fight to the death. 
ACT II: THE GYPSY
During the duel, Manrico overpowered the count, but some instinct stopped him from killing his rival. The war has raged on, with the Royalist forces victorious in the most recent battle. Manrico was badly wounded, but his mother, the gypsy Azucena, has nursed him back to health in a camp in the mountains.
A band of gypsies gathers at their mountain hideout. Azucena is the woman for whom di Luna has been searching. Her life is scarred by the memory of her mother's death and the terrible revenge she exacted. Manrico, who has never heard the full story, is determined to finally know the truth. Azucena tells him how she stole the older count's infant son but, in her manic rage, accidentally murdered her own child instead. When Manrico demands to know who he truly is, Azucena is evasive: All that matters is the mother's love she has shown him all his life and that he does not fail to take revenge on the house of di Luna. A messenger arrives with news that Leonora, believing that Manrico has fallen in battle and hoping to escape di Luna's grasp, is entering a convent. Azucena pleads with Manrico to stay, but he resolves to go to her immediately.
Di Luna arrives at the convent with his troops to take Leonora by force, but his attempt to seize her is foiled when Manrico and his men attack. In the ensuing chaos, the lovers escape.
ACT III: THE GYPSY'S SON
Di Luna has laid siege to the fortress where Manrico has taken refuge with Leonora. Soon, soldiers bring in Azucena, whom Ferrando and his men have captured wandering nearby. When she hears di Luna's name, her reaction arouses suspicion, and Ferrando recognizes her as the murderer of the count's brother. Azucena cries out to Manrico to rescue her, and di Luna realizes that he now has his enemy in his hands. He orders a pyre built for Azucena before the walls of the fortress.
Inside the castle, Manrico and Leonora are preparing to be married. She is frightened, but he assures her of his love even in the face of death. When news of Azucena's capture arrives, Manrico summons his forces and prepares to attack.
ACT IV: THE EXECUTION
Manrico's army has been defeated, and he and Azucena are being held captive in di Luna's castle. Leonora has escaped and now comes to the prison to pray for Manrico's salvation. When di Luna orders the execution of Manrico and Azucena at sunrise, Leonora offers herself to the count in return for her lover's life; however, she secretly takes a slow-acting poison, sealing her fate.
In their cell, Manrico tries to comfort Azucena, who is terrified of the stake and the fire that await her. Leonora appears to tell Manrico that he is saved and urges him to escape. Understanding that she has promised herself to di Luna, he denounces her and refuses to flee. But the poison is already taking effect, and Leonora dies in his arms, just as di Luna arrives. He sends Manrico to his execution. Azucena cries out that her mother is avenged: di Luna has killed his own brother.
During all four nights of opera "Il Trovatore", the NTOB Orchestra will be conducted by the Italian conductor Sebastiano Rolli.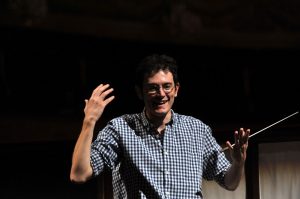 Conductor
Sebastiano Rolli studied Chamber Music and Composition at the Conservatory of Parma and Milan and Musical drama with Marcello Conati; he started his career as a conductor at a very young age, distinguishing as one of the most exciting performers of his generation.
In past years he started collaborations with many theatres and orchestras conducting, among the others: Il Trovatore, La Traviata, Rigoletto, Aida, Attila, Nabucco, Il Barbiere di Siviglia, Le Nozze di Figaro, Il Tabarro, Cavalleria rusticana.
In the past seasons he conducted: Macbeth at the Slovak National Opera in Bratislava; Maria Stuarda at the Teatro Sociale in Rovigo, at the Teatro Donizetti in Bergamo and at the Teatro Filarmonico in Verona ; Il Trovatore and Maria di Rudenz at the Teatro Donizetti in Bergamo; Falstaff at the Teatro Verdi in Busseto for the Festival Verdi; I Puritani at the Slovak National Opera in Bratislava; Torquato Tasso at the Teatro Donizetti in Bergamo; Gianni Schicchi and Suor Angelica in Tirana; a recital at the Concert Hall in Dublin along with Juan Diego Florez; Anna Bolena at the Opera in Tenerife; Faurè's Requiem, Verdi's Quattro pezzi sacri and Die Lustige Witwe  at the Teatro Lirico in Cagliari Cagliari; La Cenerentola and Pierino e il lupo at the Filarmonico in Verona; Lucia di Lammermoor at the Regio in Parma and in Savon; a tour with Juan Diego Florez in Mexico and Perù and La Sonnambula in Catania.
Most recently he conducted: Verdi's Requiem in Madesana with the Teatro Regio of Parma; Donizetti's Rosmonda d'Inghilterra in Bergamo and in Firenze; Bellini's La straniera in Catania; L'Italiana in Algeri with the Opera of Florence in Oman; Norma in Tenerife; La Traviata in Florence, in Parma, In Busseto and in Bolzano; Donizetti's Roberto Devereux in Parma; Nabucco for the Israeli Opera; La Sonnambula in Florence; Il Trovatore for Rete Lirica delle Marche and in Tirana; Un ballo in maschera in Parma; La Traviata in Florence.
Among his numerous publications, two critical studies on "Giuseppe Verdi. The masters of melodramma "Giuseppe Di Stefano. His characters" – Azzali Publishers. He is regularly invited by musical institutions and conservatoires to keep masters in-depth interpretation of Verdi or choral music. He was professor of interpretation of the score and vocal diction for singers in the courses "Mythos" of the "Fondazione Arturo Toscanini" and "Fondazione Teatro Alla Scala" in Milan.
Plans include: Pagliacci in Sassari; revival of La Traviata in Florence; Il Barbiere di Siviglia in Fribourg; Macbeth in Dijon.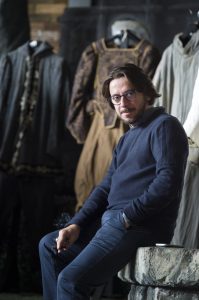 Director
Mariano Bauduin was born in Naples in 1979. He studied drama at DAMS in Bologna, harmony and counterpoint at the San Pietro Conservatory in Majella, Naples, and continued his music studies in composition with Maestro Francesco D'Avalos.
Since 1997 he has been an assistant to Maestro Roberto De Simones.
Since 2004 he has devoted himself to research activities in the field of ethnomusicology and anthropology throughout Campania, under the leadership of Roberto De Simone, requested by the "Museum of Art and Folk Tradition of Rome" and "Santa Cecilia Academy" in Rome.
In 2012, he created "Gli Alberi di Canto Teatro", a theatrical campaign combining tradition with innovation, music taught at school with folk music, research and memory preservation.
Bauduin is the winner of the "Sipario – La Nuova Critica 2012" Award in the musical genre. Currently, he is the artistic director of "Beggar's Theater – Il Teatro dei Mendicanti" and directs the theatrical campaign "Gli Alberi di Canto Teatro".
He has been a director or assistant director in these works: "Holiday for la Rabbia Mancanta", "La Serva Padrona", "Il Maesto di Capella", "Il Flauto Magico", "Il natale della Resistance V ed.", "Don Giovanni", "Cosi fan tutte ", "Intro to Di Giacomo with La Serva Padrona", "Otello", "Nabucco", "La Principessa e le 7 note", "Policinella", "28 Marzo 19… 20…", "Berbiere for Family", "Verdi raconta Shakespeare", "Requiem in memoria di Pier Paolo Pasolini", "Ci Sragiono Prego e Campo", "Carmen", "Les Vespres siciliennes", "Lo Cunto de li cunti", "Combattimento e storia di un soldato", "Socrate immaginario", "La donna vendicativa", "Canto e scanto per San Gennaro", "Inteattenimento a casa Di Giacomo con La Serva Padrona", "L'Isola Disabiata", "Turandot", "I mille pagliacci di Eduarto", "Natale della Resiztensa IIº ed.", " La funzione del centenario", "Pergolesi in Olimpiade", "L'osteria di Marechiaro", "Marechiaro", "Waiting for the moon", "Suite da lo Vommaro", "El Diego – Concerto No. 10", "San Gennaro Superstar", "Don Pasquale", "Ecco il Messia", "Cantata per lo sposalizio del Principe di Sansevero", "Lo Vommaro a duello", "Lo 'Ngaudio", "La ci darem la mano", "Era di Maggio", "Cantata per la Gran Madre di Dio", "Il ratto dal serraglio", "Il silenzio muore senza lutti", "Conserto per Caterina II", "Capriccio", "Sconcerto per Shakespeare", "Eden Teatro", "Populorum progression", "L'ompresario in anguistie". In a part of these works, besides directing, Bauduin has been a playwright, author and performer.
Directorial Concept
The considerations that can be made about a G. Verdi's "Il Trovatore" direction may be different and may take many directions, but what we want to highlight is how the operatic tradition has activated today  an intellectual leveling towards Busseto's "swan", in order to deprive the author of popular violence, which made it possible to put into play the music of arduous dramas and articulated stories, with an immediate theatrical approach that extremely captivates you and has a very strong impact on the masses.
With such enthusiasm "Il Trovatore" conquers me, the beaten and still hot rod of Italian melody which is modeled on the fierce dreams of a peasant who rises to the pedestal of an almighty nation, producing a common language derived from the rhapsody's illustrative or didactic cadres, from the striking emotion of musical bands, from historical image posters at children theaters' entrances, from spectacular military fanfare, from gypsy themes to revenge, from the rampant money cult, from death sentences and lithographic polychromy to angelic love, or to the chivalrous quarreling trio.
"Il Trovatore" represents an emblematic point in the history of Italian melodrama, one can say that Verdian creativity is divided into "Before" and "After" Il Trovatore.
As in a very ancient "macabre dance", the themes of Il Trovatore seem to traverse the stanzas of those very old ballads, where old love stories, abducted brothers, burned witches and intermittent curses are told. I have long thought about the theatrical forms on which I would have to base my direction and it seemed emblematic to analyze the event from a literary rather than necessarily narrative point of view: Azucena's character shows a very important personality for the whole event, showing that it is her who, perhaps unconsciously, decides the fate of all the characters; that is, I believed that the Gypsy should be given another dimension, deepening in its Gypsy and Witch identity, knowledge of mystical arts such as chemistry and the forms of the "evil eye"; she is the character who moves the strands of a prediction to the bottom with extreme conviction and rationalism, establishing the concept of "equilibrum mundi" (equilibrium of the world), very important in some gypsy cultures: if evil is done upon them, they must do evil, if good is done upon them, do good, by all means, even by sacrificing your child.
Other characters enter this context as victims destined and condemned from the very beginning of the drama, as if they were all participants in a dance of death, as in the inscriptions or the frames of the XIV century onwards.
I asked my set designeer, Dario Gessati, to design a scenic project to keep this line, and so we thought to have a giant tower for the whole storytelling, as well as chess figures to move around on a giant chessboard, in order for the characters themselves to result as pieces in a death match, defeated from the beginning. The same thing has been done by costume designer Berina Kokona, who has created costumes with the images of Bosch and Brueghel referring to that world.
In the end, I have put together eight mimos / dancers that create some wavering on the romantic themes exhibited in this work, only in the moments in which the opera clearly departs from the Verdian world, seeking new forms, or reclaiming the past ones.
So our "Il Trovatore" is a poetic elaboration of a culture that was clearly circulating in the channels of a "cult" world that G. Verdi and many other Italian artists knew, a culture formed by constant influences, between ups and downs, between popular and intellectual elements, between old spells and religion, between love and death, between poetry and damnation.