Why we once again selected Georges Bizet's Carmen
by Zana Çela, General Director
We chose Carmen opera to re-open the artistic season because "Carmen" is the most produced operatic work in the world. That means it the most liked, the most popular work for the public not only because of the wonderful story with very interesting characters, belonging to the simplest strata of society, but especially because of the extraordinary music.
Since its premiere in 1875, the arias, choruses, overtures, and various parts of Carmen's music have turned into melodies for all walks of life; from gondoliers to ad producers, who use them as soundtracks to various television spots, or pop song makers who often borrow them. This points the powerful emotional impact and the strength of longevity it has.
"Carmen" is a story that can belong to each and every one of us: a stranger in society whose circumstances are all against her, who does everything in her power to have a better life. When it first appeared in Paris in 1875, Parisian high society was scandalized, that the events of an opera had descended from high society circles and courts, into the cigarette factory workers' premises, and the heroine was amidst them. If the Parisian snobs who regarded it as worthless and wanted this work to be forgotten had the chance, "Carmen" would have disappeared because of her affiliation with the working class and her inappropriate way of behaving. The fact that those who condemned her story were themselves involved in scandal and embarrassing events is the best explanation for why the fight against hypocrisy is the instigator and mission of art in general.
With its allegory, Carmen's story encompasses all these stories of status change in society.
Bizet was probably far more advanced than the time in which he lived, for him to write a story about a woman standing in the outer circle of society of the time. This was best understood from the 1950s onward when Carmen began to be adapted more and more for the modern audiences.
The "Carmen" opera has so many iconic moments that it is almost impossible to choose one as your favorite.
At the reprise of September 2018 we created joint artist casts from the National Theater of Opera and Ballet and the Belgrade National Theater, who have created fantastic characters because there is not a single way to interpret the roles of the opera "Carmen", as every singer expresses them according to the experience and inspiration he receives from the society in which he lives. I am convinced of their success and of the public's enthusiasm that will follow all the shows this season.
Georges Bizet (1838-1875)
Georges Bizet, original name Alexandre-César-Léopold Bizet, (born October 25, 1838, Paris, France—died June 3, 1875, Bougival, near Paris), French composer best remembered for his opera Carmen (1875). His realistic approach influenced the verismo school of opera at the end of the 19th century.
In 1847, he enlisted at the Paris Conservatory of Music. Georges Bizet wrote his first symphony when he was seventeen, as a student assignment. His manuscript was to be retrieved in the archives of the Conservatory library only in 1933, and its first execution was in 1935. This work stood out for its musical freshness, more Italian rather than French, a quality that would characterize his following works.
In 1857 the composer took part in a competition announced by Jacques Offenbach, with "Le decteur Miracle" one act operetta and won the first prize. Georges Bizet also won the "II Prix de Rome" Music Scholarship, receiving the right to study in Rome for three years. There his talent developed even further with the creations of his works, such as the opera "Don Procopio". Except for the period in Rome, Bizet lived all his life in Paris. While working on the score for "Ivan IV", a major 5-act opera, Paris Lyric Theater Director Leon Carvalho gave him the exotic opera "Pearl Fishers", which was well-received by the public. In 1866 he was invited to write an opera based on Walter Scott's novel "La jolie fille de Perth". The opera was put on stage on December 16, 1867, and was a success with the public, but criticism lamented the presence of Wagnerism in the work.
In the two-year period from 1873 to 1875, Bizet created "Carmen", his masterpiece. The opera fascinated with the richness of musical elements, sensual and sensual tunes, the harmony of humor, the fluidity of dance and folk elements. This work is also known as his best work, based on the novel of the same title written in 1846 by Prosper Merimée. Carmen has become one of the most popular and accomplished operas in the world.
Browsing the catalog of Bizet's works, divided into theatrical works, orchestra, piano, chamber and vocals compositions, you will be amazed at how many have remained at the project level and how many of the completed works have never been interpreted.
It is only at the end of his short life that Bizet manages to find the authentic language with what have been called his theatrical masterpieces "L'Arlesienne" and "Carmen". In these two works the characteristics of his art appear. A quiet art, cut both in the dramatic field and in typical musical values.
First Premiere
"Carmen" is a four-act opera by French composer Georges Bizet and with a libretto written by Henri Meilhac and Ludovic Halévy. The subject of this opera is taken from the novella with the same title of Prosper Merimée.
The first premiere of the opera "Carmen" was put on stage at the Comic Opera in Paris on March 3, 1875. The first performance proved unsuccessful. After this premiere the author took care to modify the original manuscript in many ways.
Bizet died suddenly after Carmen's 33rd performance without knowing that his work would become internationally renowned and reap success within the next ten years. "Carmen" has since become one of the most popular and known works of classical style. "Habanera", the aria sung in the first act, and "Toreador", the aria sung in the second act, remain two of the most popular arias of this work to this day.
The event is set in southern Spain and tells the story of the fall of Don José, a naive soldier who is seduced by the Gypsy Carmen. José gives up his childhood love, Micaëla and his military duties for Carmen.
There was a lot of criticism after the premiere and the French public was generally indifferent to it. Carmen initially gained its reputation through a series of productions outside of France and was not performed in Paris until 1883. After that, it quickly gained popularity at home and abroad.
SYNOPSIS
Composer Bizet was inspired by the novel with the same title written by the French Prosper Merimée.
"Carmen" is the story of a love event in Seville – Spain. A sensual and passionate cigar worker, she marvels at a soldier devoted to the homeland. This is how the first meeting is described: "A woman runs down the stairs of a cigarette factory, followed by Carmen. Two phases of a war, Carmen is about to kill her rivals, but is stopped by a man, Don José…".
After various events, Don Josè will rebel against his superiors, escaping with Carmen and taking refuge in the mountains with smugglers. But the relationship is unstable, the characters are very different, and they have Escamillo, the toreador in love with Carmen and Micaëla, Don Josè's lifelong girlfriend, as rivals. Thus love, despite its initial strength, does not win and is overwhelmed by despair and doubt. Don Josè's love will put his beloved Carmen to death during a crisis of jealousy.
Characters:
Carmen – a beautiful and strong-willed "gypsy" (or Roma) woman – mezzosoprano
Don José – a corporal in the dragoons – tenor
Escamillo – a famous bullfighter – baritone
Micaëla – a girl from Don José's village – soprano
Zuniga – a captain of the dragoons – bass
Moralès – a corporal – baritone
Frasquita – a friend of Carmen's – soprano
Mercédès – a friend of Carmen's – soprano
Remendado – a smuggler – tenor
Dancaïre – a smuggler – baritone
SYNOPSIS
ACT I
Spain. In Seville by a cigarette factory, soldiers comment on the townspeople. Among them comes Micaëla, a peasant girl, who asks for a corporal named Don José. Moralès, another corporal, tells her he will return with the changing of the guard. The relief guard, headed by Lieutenant Zuniga, soon arrives, and José learns from Moralès that Micaëla has been looking for him. When the factory bell rings, the men of Seville gather to watch the female workers — especially their favorite, the gypsy Carmen. She tells her admirers that love is free and obeys no rules. Only one man pays no attention to her: Don José. Carmen throws a flower at him, and the girls go back to work. José picks up the flower and hides it when Micaëla returns. She brings a letter from José's mother, who lives in a village in the countryside. As he begins to read the letter, Micaëla leaves. José is about to throw away the flower when a fight erupts inside the factory between Carmen and another girl. Zuniga sends José to retrieve the gypsy. Carmen refuses to answer Zuniga's questions, and José is ordered to take her to prison. Left alone with him, she entices José with suggestions of a rendezvous at Lillas Pastia's tavern. Mesmerized, he agrees to let her get away. As they leave for prison, Carmen escapes. Don José is arrested.
ACT II
Carmen and her friends Frasquita and Mercédès entertain the guests at the tavern. Zuniga tells Carmen that José has just been released. The bullfighter Escamillo enters, boasting about the pleasures of his profession, and flirts with Carmen, who tells him that she is involved with someone else. After the tavern guests have left with Escamillo, the smugglers Dancaïre and Remendado explain their latest scheme to the women. Frasquita and Mercédès are willing to help, but Carmen refuses because she is in love. The smugglers withdraw as José approaches. Carmen arouses his jealousy by telling him how she danced for Zuniga. She dances for him now, but when a bugle call is heard he says he must return to the barracks. Carmen mocks him. To prove his love, José shows her the flower she threw at him and confesses how its scent made him not lose hope during the weeks in prison. She is unimpressed: if he really loved her, he would desert the army and join her in a life of freedom in the mountains. José refuses, and Carmen tells him to leave. Zuniga bursts in, and in a jealous rage José fights him. The smugglers return and disarm Zuniga. José now has no choice but to join them.
ACT III
Carmen and José quarrel in the smugglers' mountain hideaway. She admits that her love is fading and advises him to return to live with his mother. When Frasquita and Mercédès turn the cards to tell their fortunes, they foresee love and riches for themselves, but Carmen's cards spell death—for her and for José. Micaëla appears, frightened by the mountains and afraid to meet the woman who has turned José into a criminal. She hides when a shot rings out. José has fired at an intruder, who turns out to be Escamillo. He tells José that he has come to find Carmen, and the two men fight. The smugglers separate them, and Escamillo invites everyone, Carmen in particular, to his next bullfight. When he has left, Micaëla emerges and begs José to return home. He agrees when he learns that his mother is dying, but before he leaves he warns Carmen that they will meet again.
ACT IV
Back in Seville, the crowd cheers the bullfighters on their way to the arena. Carmen arrives on Escamillo's arm, and Frasquita and Mercédès warn her that Don José is nearby. Unafraid, she waits outside the entrance as the crowds enter the arena. Don José begs Carmen to forget the past and start a new life with him. She scorns his imploring pleas, telling him that "Carmen was born free and free she will die". She takes off his ring and throws it at his feet before heading for the arena. The crowd is heard cheering Escamillo. Jealous and blinded by despair, Don José kills Carmen, who was heading to the arena to assist in the triumph of her new boyfriend. As Carmen dies, the cheers of the crowd greeting Escamillo's victory are heard in the arena.
JANUARY – FEBRUARY 2018 PREMIERE
CHARACTERS AND INTERPRETERS
NTOB Symphony Orchestra
Conductor: Ricardo Casero
Director: Gëzim Myshketa
With the participation of actress Tinka Kurti
Special Guest, choreographer Gheorghe Lancu
Special Guests, dancers Anbeta Toromani & Alessandro Macario
NTOB Soloists and Ballet Troupe
NTOB Choir
Choir conductor: Dritan Lumshi
Carmen – Vikena Kamenica, Ivana Hoxha
Don José – Giancarlo Monsalve, Armaldo Kllogjeri
Micaëla – Eva Golemi, Renisa Laçka, Dorina Selimaj
Escamillo – Gëzim Myshketa, Armando Likaj
Frasquita – Dorina Selimaj, Renisa Laçka
Mercédès – Shpresa Beka, Sofika Kola
Remendado – Elson Braha, Gilmond Myftari
Dancaïre – Erlind Zeraliu, Denis Skura
Zuniga – Antonio Zefi
Moralès – Sidrit Bejleri
Costume Designer – Ardi Asllani
Set Designer – Renold Sula
Concert Master – Lindita Kotorri, Ingrid Pulizo
Thanas Paskali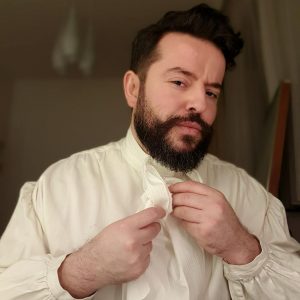 Gëzim Myshketa – Director
Gëzim Myshketa is born in Albania in 1982.  He graduated at the Arrigo Boito Music Conservatory in Parma (Italy) under the guidance of Giuliano Ciannella and Lelio Capilupi.  After winning the As.Li.Co. competition in 2006, he made his debut as Leporello in Don Giovanni on a tour in Italy and at the Opéra de Massy. 
At the beginning of his career, Mr Myshketa performed: Orphée et Eurydice (Amore – La Guida) and L'Elisir d'Amore at the Teatro Comunale in Bologna, in Massy, at the Teatro Filarmonico in Verona and in Rome under the baton of Bruno Campanella. He also performed: Le Villi, Iris, Madama Butterfly, Trouble in Tahiti and Maria Stuarda at the Teatro Verdi in Trieste; Die Lustige Witwe (Danilo) at the Teatro Carlo Felice in Genoa and in Verona (Teatro Filarmonico); Carmen at the Sferisterio Opera Festival in Macerata; Le Nozze di Figaro (Conte d'Almaviva) and Don Giovanni in Palm Beach; Giulio Cesare in Egitto in Bilbao; Rodelinda (Garibaldo) at the Valle d'Itria Festival; and Simon Boccanegra at the Teatro Massimo in Palermo.  Past engagements also include: Maria Stuarda in Piacenza and Modena; Le Convenienze e inconvenienze teatrali (Biscroma) and I Pazzi per Progetto (Venanzio) in Zurich; Cléopatre at the Salzburg Festival; I Puritani and Le Villi at the Slovak National Opera in Bratislav; Carmen (Escamillo) in Novara and at the Sferisterio Opera Festival in Macerata; La Gazza Ladra in Verona; Gianni Schicchi in Trieste and in Pordenone; La Battaglia di Legnano (Rolando) at the Teatro Regio for the Festival Verdi in Parma; Il Barbiere di Siviglia in Treviso and Ferrara; I Puritani in Bratislava; Ali Pascha von Janina in Tirana; Turandot in Cagliari.
Among his interpretations at TKOBAP are the operas: "L`Elisir d`Amore" (role of Belcore) 2004; "Il Maestro di Capella" 2005; "Cosi fan tutte" (Guliermo) 2006; "Ali Pasha Von Janina" (role of Ali Pasha) 2013; "Gianni Schicchi" (role of Gianni Schicchi) 2015, and numerous concerts and charities.
He debuted as a director and performer at the National Opera and Ballet Theater in Tirana with the work "Gianni Schicchi" in 2015.
Gëzim Myshketa has recently gained great successes singing Lord Enrico Ashton in Lucia di Lammermoor in Marseille; Lord Guglielmo Cecil in Maria Stuarda and Fra Melitone in La Forza del Destino at the Teatro Filarmonico in Verona; Don Giovanni (title role) in a new production by Graham Vick for the AsLiCo circuit and on tour also in Jesi, Fermo and Bolzano; Escamillo in Carmen at the Deutsche Oper in Berlin and in St. Gallen; La Traviata in Hamburg; Turandot in Toulouse; Ezio in Attila at the Teatro Comunale in Bologna (Michele Mariotti conducting and Daniele Abbado directing).
After his successful debut as Ford in Falstaff at the Stuttgart Staatsoper in 2013, Mr. Myshketa started a constant collaboration with this Opera House, he sang: Giorgio Germont in La Traviata, Marcello in La Bohème, Escamillo in Carmen, Valentin in Faust, Conte d'Almaviva in Le Nozze di Figaro, Sir Riccardo in I Puritani.
In 2016 he performed as Giorgio Germont in La Traviata in Leipzig, afterwards he was invited in the Leipzig Theatre to sang in the productions of Madama Butterfly and Lucia di Lammermmoor.  Mr Myshketa has recently performed in Simon Boccanegra (Paolo Albiani) in Antwerp and Naples; La Rondine in Toulouse; Cavalleria Rusticana in Bologna; I Pagliacci in Oman with Opera di Roma; Faust and I Puritani in Stuttgart; La Traviata in Leipzig; La forza del destino at the Zurich Opernhaus.
In June 2017, the President of the Republic honors him with the title of "Grand Master" for his outstanding work, contributions and accomplishments as a baritone and superb music performer, reaping success across the international scene as well as exalting the Albanian name and art values all over the world.
He collaborated with such renowned conductors as Philippe Auguin, Frédéric Chaslin, Daniel Oren, Nello Santi, Bruno Campanella, Paolo Arrivabeni, Michele Mariotti, Maurizio Benini and such directors as Robert Carsen, Giancarlo del Monaco, Pierluigi Pizzi, Damiano Michieletto, Graham Vick and Calixto Bieito.
Future plans include: Carmen at the Dresden Semperoper; Cavalleria Rusticana in Turin; Il Barbiere di Siviglia in Cagliari; Beatrix Cenci (Ginastera) in Strasbourg; Falstaff in Lille, Luxembourg and Caen; mantaining his collaboration with Leipzig, he will be in La Bohème and Carmen (new production).
The directorial conception of the opera "Carmen" by Gëzim Myshketa
The unstoppable run of time and selection it brings confirms the value of some absolute works such as Georges Bizet's "Carmen". Also, through the creativity of directors' minds it redesigns the interpretive contours and their parables often unjustly or incoherently. The fortunate collaborations with great masters like Dante, Coco, Bieito, Pizzi, De Anna, Del Monaco, Wieler, Zeffirelli, Vick, who have also created and conceived my personal taste of theater, have taught me to have an interpretive approach with white caring gloves every time that I take over such a masterpiece. Carmen's in-person reading of the scene avoids abusing what is masterfully written in Prosper Merimée's novel and Bizet's score. The sole purpose is a personal interpretive reading, which seeks to go further in reading an opening headline by one of the most inflationary in operatic history. I have always been intrigued by questions like: What does José's dark past hide?
How does his mother, so many times mentioned in the work, resemble?
Could Micaëla be driven by a personal purpose rather than a pure feeling of love?
And above all the question: "Does Carmen really love or, as a feminine version of Don Juan, finds herself dedicated solely to her and the sense of absolute freedom?"
All of these questions reveal a still-not-fully-explored world of Carmen before our eyes, and our mission is to provide an answer, an interpretation.
The period of this stage realization may be in the dark years of the fascist regime of France where the thirst for freedom takes on a small revolution in the final act of the second act. And, yet I didn't want to over-emphasize political or historical messages as I thought of a softer version for the public, at least this time. Not strained unpredicted happenings in every act, the completely original and stripped of the manners of the time play, as well as the aesthetics of the realization of every detail will be the illuminating lighthouse we sail with confidence, surrounded by great names like Kurti, Ianku, Toromani, Macario and most of all our wonderful artists dedicated and eager for theater.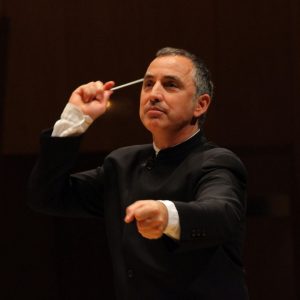 Ricardo Casero – Conductor
Ricardo Casero is the music and artistic director of the Orquesta Reino de Aragón, Spain, and resident orchestra at Zaragoza's Auditorium. Graduated with honors from highest institutions in Spain, the United States and England, Fulbright Grant member and world awarded in several international competitions, Casero has furthered his conducting career by working as a collaborative conductor at the Palau de les Arts in Valencia working closely to the greatest, Zubin Mehta in Aida, Turandot, Traviata and Simon Boccanegra with Lorin Maazel, The Bohème of Riccardo Chailly or The Trojans of Valery Gergiev.
Quickly Casero starts a brilliant career as a conductor, highly demanded as a guest conductor around Europe, Orchestre de la Opera de Marseille, France; Franz Liszt Chamber Orchestra Budapest; Halle Staatskapelle, Germany; Danubia Symphony Orchestra, Budapest; Jalisco Philharmonic Orchestra, Mexico; Transylvania Philharmonic Cluj, Romania; Romania National Radio Orchestra; National Philharmonic of Ukraine, Swedish Wind Ensemble; Kiev National Opera House, Ukraine, leading Verdi's Traviata; Georgia National Philharmonic; National Plovdiv Opera House, Bulgaria, leading Puccini's Bohème; Albania National Opera, as a principal guest conductor has been leading Verdi's Traviata, Mozart's The Magic Flute and Bizet's Carmen;  Raanana Symphonette, Israel; Macedonia Philharmonic Orchestra; Spanish National Orchestra of Spain ONE; Bilbao Symphony Orchestra (BOS); Castilla y León Symphony Orchestra; Valencia Community Symphony Orchestra (Palau de les Arts),Valencia Symphony Orchestra, City of Granada; Extremadura Symphony Orchestra, Murcia Symphony Orchestra, Galicia Royal Philharmonic Orchestra, Córdoba Symphony Orchestra, Oviedo Philharmonic Orchestra.
REPRISE SEPTEMBER 2018
CHARACTERS AND INTERPRETERS
NTOB Symphony Orchestra
Conductor: Dejan Savić
Director: Gëzim Myshketa
With the participation of actress Tinka Kurti
Special Guest, choreographer: Gheorghe Lancu
NTOB Soloists and Ballet Troupe
NTOB Choir
Choir Conductor: Dritan Lumshi
Carmen – Vikena Kamenica, Ljubica Vraneš, Ivana Hoxha
Don José – Janko Sinadinović, Armaldo Kllogjeri
Micaëla – Renisa Laçka, Dorina Selimaj, Simona Karafili
Escamillo – Armando Likaj, Aleksandar Stamatović
Frasquita – Dorina Selimaj, Rezarta Qevani
Mercédès – Shpresa Beka, Simona Karafili
Remendado – Elson Braha
Dancaïre – Erlind Zeraliu
Zuniga – Antonio Zefi, Xhieldo Hyseni, Bledar Domi
Moralès – Genc Vozga
Directorial reprise – Ada Gurra
Costume Design – Ardi Asllani
Set Design – Renold Sula
Concert Master- Lindita Kotorri, Ingrid Pulizo
Thanas Paskali
In the framework of signing the Protocol of Cooperation with the National Theatre in Belgrade, NTOBFE implements the first act of this Protocol in the opera "Carmen".
At the reprise of the show on September 27, 28, 29 and 30, the NTOB Orchestra is conducted by Dejan Savić, at the same time General Manager of Opera in Belgrade.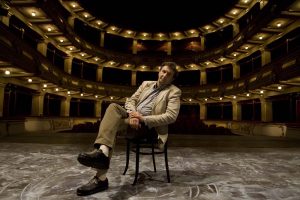 Dejan Savić – Conductor
Dejan Savić (1957), the outstanding Serbian conductor, is born in Belgrade in the family of musicians. He graduated conducting with distinction at the Academy of Music in Belgrade and received his Masters Degree at the Academy of Arts in Novi Sad. On a specialization course, Mr. Savić was working with Mo Berislav Klobucar.
In the period 1985 – 2000, Mr. Savić was appointed Artistic Director of the oldest Serbian-Jewish Choral Society "The Baruh Brothers", founded in 1879. Since 1993 – 1995, he was a present Artistic director of the famous "Pro Musica" chamber ensemble. During the period 1989 – 1993, Mr. Savić was the Artistic Director and Chief Conductor of the Nis Symphony Orchestra and since 1993 he is the Principal Conductor of the Belgrade Opera and Ballet Company.
From 2001 – 2004, Mr. Savić is appearing as the General Manager of the Beograd Opera and Ballet Company. In 2005 he has been appointed the Superintendant of the National Theater Beograd, being the first musician on the head of this prestigious national institute of culture in its 140 years long history, then in 2007 he took the position of the Opera General Manager.
Mr. Savić was appointed Guest Conductor to the ERT Symphony Orchestra and Choir in Athens, Greece, for four seasons.
Among the famous instrumentalists with which Mr. Savić performed are names such as: pianists Ludmil Angelov, Mihai Ungureanu, Kjell Baekkelund, Vladimir Krainev, Eliso Virsaladze, Dana Borsan; violinists Stojka Milanova, Christina Anghelescu, Luigi Alberto Bianchi; cellists Ksenija Jankovic, Anatolij Krstev; guitarist Alirio Diaz; harpist Anna Verholantseva a.o.
The success of the opera "Carmen" and the press
The new production that opened NTOBFE's new opera season 2018 was George Bizet's "Carmen" opera. The opera "Carmen" premiered on January 30, January 31 and February 1, 2, and 3 at the Palace of Congresses. After completing 5 magical nights with a packed hall, this opera turns out to be NTOB's best-selling show of the last 10 years, with a total audience of around 5,000. For this work, 270 costumes designed by stylist Ardi Asllani were made, bringing in time the sanguine Spanish atmosphere. The Albanian public packed the Palace of Congresses for five consecutive nights, setting a new record for NTOBFE and endlessly applauding the artists who performed this work and who kept the public in suspense until the end of four opera acts. The show blended the Albanian excellence in the world with big names in Albanian opera music and engaged about 170 artists, lyric singers, dancers and children.
"Carmen" was directed by the well known Albanian baritone Gëzim Myshketa, successful in both foreign and Albanian scenes, under the direction of Maestro Ricardo Casero. This production brought to the Albanian scene special guests such as internationally renowned choreographer Gheorghe Iancu, tenor Giancarlo Monslave, ballet dancers Anbeta Toromani and Alesandro Macario, who joined the wonderful NTOBFE artists such as: Vikena Kamenica, Eva Golemi, Armaldo Kllogjeri, Armand Likaj, Ivana Hoxha, Sidrit Beljeri, Renisa Laçka, Dorina Selimaj, Shpresa Beka, Sofika Kola, Antonio Zefi, Erlind Zeraliu, Denis Skura, Gilmond Myftari, Simona Karafili, Elson Braha, etc.
Print and TV media echoed this gigantic production of the National Theatre of Opera, Ballet and Folk Ensemble, where we would like to highlight some of the accolades and headlines:
RTSH – "The cast of artists directed by the play's director to convey to the public the best of him, was noted in the first act of the opera. Don José, performed by Chilean tenor Giancarlo Monsalve and Micaëla, masterfully interpreted by soprano Eva Golemi and Renisa Laçka, with an innocent love and affection from childhood promises set the stage for the volcanic temperament of the gypsy Carmen, who brings mezzo-soprano Vikena Kamenica once again to the stage. In the lead role, Kamenica embodies the gypsy that kneels men and captivates the mind of Don José the same way as she does with matador Don Escamillo, one of the most successful roles in the career of baritone Gëzim Myshketa."
The ballet troupe complemented the framework of a stunning production that brought back to the Albanian scene the famous ballet dancer Ambeta Toromani, who in the duet with Alessandro Macario reminded us of the finesse and drama that a ballet could embody in the work. Conceived away from the popular flamenco, but adjacent to the elegance of the tango, choreography by master Gheorghe Iancu was capable of transporting us spiritually, assisted also by the wonderful chorus.
Report TV- "Carmen Triumphs with Kamenica, Monsalve, Golemi and Myshketa"
RTSH – "Opera Carmen, a magical triumph of sound"
ABC News – "Opera Carmen" manages to captivate the audience, welcomed by the public. The opera of passion, love, intrigue and jealousy captivated the spectator through the performances of Vikena Kamenica, Gëzim Myshketa, Giancarlo Monsalve, Eva Golemi, etc.
Spectrum – "Opera "Carmen" brings together the best of the stage"
Shqiptarja.com – "The first night of the premiere of the opera 'Carmen' at the Palace of Congresses in Tirana has ended with applause and enthusiasm"