Carl Orff – CARMINA BURANA
NTOB ORCHESTRA
Conductor: Gudni Emilsson
NTOBFE Choir and Children Choir
Choir Conductor: Dritan Lumshi
Children Choir Conductor: Zana Hysa
Soloists
Soprano: Ramona Tullumani
Baritone: Armando Likaj
Counter tenor: Safet Berisha
O Fortuna!
In this call to the goddess of destiny is shown the prayer of love and destiny so necessary for existence. The wheel of fortune is the symbol that determines the ups and downs in human life, with the cycles of tension created in the relationships between men and women, between young and old.
We also experience these interactions in Youri Vàmo's ballet under the sounds of Carl Orff's music.
Carmina Burana is considered one of the first classics in the history of music.
Brilliant in all its simplicity, rhythmically potent, with an ever-present theme, this ballet awakens fantasy like no other work of the 20th century.
To this suggestive power of Orff's music, choreographer Vamos responds with a particularly simple set design. The stage itself is framed by choir and orchestra silhouettes. Against this backdrop and through impressive choreography he unfolds an exhilarating anthem for genuine love.
Carmina Burana will be an experience that cannot be easily erased from memory, a work that has left audiences speechless for 20 years.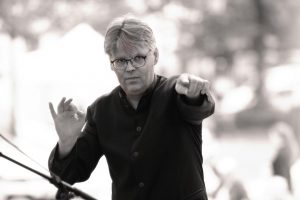 Gudni A. Emilsson started music lessons with his father at the age of 4. He studied piano and conducting in Germany, and he has been honored with several national and international awards as a conductor. His curriculum lists several performances with the largest and most important orchestras in Germany, such as the Stuttgart Philharmonic Orchestra, the Nuremberg Symphony Orchestra, the University of Leipzig Symphony Orchestra and beyond, as well as with symphony orchestras in Greece, the Czech Republic, Poland, Austria, Romania, Bulgaria, Montenegro, the United States of America and Vietnam. Gudni Emilson has directed many popular classical music festivals in Europe. He has collaborated with renowned soloists from various theaters around the world, making him one of the conductors that have performed all throughout Europe, in many countries in Africa, the East, such as Japan, South Korea, China, and the United States of America. Since 2005 he has been the "leader" of the "Thailand Philharmonic Orchestra".