Operetta "Die Fledermaus"
Strauss's most beautiful waltzes, arias and music collected in a single work, a NTOB production. A story that intertwines class and the grotesque, amidst the mundane, luxury and deception in the Vienna society of 1870, a comedy of situations and muddle that we actually encounter even today. Judges and directors of corrupt prisons, adulterers, politicians, drunkards, featherbrained artists and maids who want to reach their ladies' level. All of this overwhelming emotional workload of Strauss's work, the wonderful atmosphere of the work is accomplished under the brilliant interpretation of all NTOB Troupes.
The interplay between opera, ballet and stage theater, is put onto a stage where dialogues between actors are interpreted in Albanian to create an exciting atmosphere.
Johann Strauss II
Johann Strauss II was an Austrian composer, son of Johann Strauss I. Both father and son made it into world art history. Johann Strauss I quickly made a name for himself as a composer, violinist and conductor. His life and work left a mark on his young son Johann Strauss, who was nourished with the beautiful Austrian folk music and the creativity of his father's musical activity. He went down the same path and became a musician, songwriter, violinist and conductor, just like his father.
Compositions such as The Blue Danube helped establish Strauss as "the Waltz King".
From the age of 19 he appeared before the Vienna public as an orchestra conductor, performing his own compositions, with which he gained great fame and made the public love him.
Johann Strauss composed over 500 waltzes, polkas, quadrilles, and other types of dance music.
With the great strength of his talent, he exploded in waltzes, which are full of melody, freshness and originality. They are notable for their rhythm, not forgetting a very resonant orchestration.
Strauss has enriched the waltz form, bringing new features typical to the rhythmic construction of his melody. In the Strauss waltzes, elements of Austrian folk music merge with the warm music of Viennese life. His best dance tunes, as the " Blue Danube ", became known not only to Austrians but to art lovers around the world. His works still enjoy great popularity in Austria and beyond.
In 1848, Johann Strauss wrote a number of waltzes such as "Songs of Freedom", "Barricade Songs", "Sounds of Unity", "Revolution March", and many other works. After his father's death, he took charge of his orchestra, conducting a lengthy tour of concerts in Europe and America that brought him worldwide glory and fame.
Johann Strauss was one of the most original conductors. By playing the violin and at the same time directing the orchestra, he achieved remarkable rhythmic elasticity in execution. This genius handled musical works by interpreting them with different expressions and colors of sound, capturing the audience with his ardent temperament and excellent playing on the violin.
Through fine art and sensibility, he carved out the special spiritual characteristics of his people, the beauty of the Austrian landscape. At the same time, Strauss's creativity is pervaded by the motifs and melodies of the music of other peoples, partly of Hungarians and Slavs. This is noted in his works created for the stage.
He has composed 15 operettas, a comic opera and a ballet, being considered an operetta master. In the last 30 years of his life, he mainly dealt with this genre of stage music.
Strauss created his first musical work for theater in 1870 and continued to write in this genre vigorously until the last day of his life. In the theatrical works that he created, as well as in concertos, the dance aroma, presented in the form of waltz, polka, gallop, csardasz and more, which are called dance operas, predominates. Such is one of Strauss's operas "Die Fledermaus". The dancing character traverses all the numbers of the score, starting with the overture, in which all the main themes of the operetta are combined.
Strauss's other works include "Night in Venice" 1883, "The Gypsy Baron" 1885, etc.
His works are distinguished and appreciated by music critics for their high artistic level. The importance of Johann Strauss's operas lies first and foremost in their music. He created the classic model of the "Viennese waltz" and the "dancing" operetta. His works also have great artistic value because they are an inexhaustible wealth of melodies, joyous momentum and heartfelt humor. Although his music has been around for a long time, it always sounds fresh and captivating.
FIRST WORLD PREMIERE
"The Bat" (german: Die Fledermaus) is Johann Strauss's most famous operetta, with a libretto by Karl Haffner and Richard Genée from "Le Réveillon" by Henri Meilhac and Ludovic Halévy.
More than a year had passed since the "Black Friday" (May 9, 1873), in which the Vienna Stock Exchange fell sharply. Feelings of pessimism and despair continued to dominate the lives of the capital's citizens, as well as in theaters. The latter recorded a sharp decline in their coffers at that time. Driven by the desire to put an end to this tragic situation, theater directors demanded the right production that would bring the public back to the theater. They discovered a very successful French comedy by Henri Meilhac (1831-1897) and Ludovic Halévy (1834-1908), entitled "Le Réveillon" (which recurs largely the "Das Gefängnis" (Prison)), a very popular and dramatic comedy by German librettist Julius Roderich Benedix. Playwright Karl Haffner was authorized to do a German translation of it. Haffner encountered great difficulty in adapting the French work for Viennese public and gusto, and his work was deemed inappropriate.
The task of creating the libretto was then entrusted to the conductor of the Theater An der Wien, librettist and composer Richard Genée (1823-1895).
Strauss was immediately fascinated by Doctor Fledermaus, (being this the title originally designed for the Genée's libretto), and immediately began work. He worked closely with the librettist and managed to complete most of his musical score in less than 42 days. The premiere of "Die Fledermaus", (it would be the final choice for the operetta's title), was going to take place in September 1874, but due to major financial problems at the Theater An der Wien, it was decided to be anticipated.
The premiere, amidst the general reception, took place on Easter Sunday, (April 5, 1874). There has been a lot of criticism of the libretto, cast and music.
Carl Ziehrer wrote on his page in "Deutsche Musikzeitung": "Again the libretto is not worth much. The music has charm, but no real sweep. The operetta is too long; it abounds with superfluous numbers, and it abounds with superfluous characters".
Anyhow, the press was quite generous in its praise of Die Fledermaus' first-night. The reviewer for the Konstitutionelle Vorstadt-Zejtung, for example, recorded:
"The whole subsequent course of the evening was in keeping with the roaring overture of applause with which Strauss was greeted. Almost every number set the audience's hands in motion, and at the end of each act Strauss, dripping with sweat, could scarcely leave the conductor's podium fast enough to thank the audience from the stage for their favour."
The Illustrirtes Wiener Extrablatt (8.04.1874) spoke of an "outstanding success scored by Strauss's inexhaustible inspiration, and a brilliant performance; it was a victory on all fronts!"
On July 8 of the same year, the work premiered at the Deutsches Theater – Berlin; November 14 in Budapest; November 21 in New York; April 18, 1875 in the "Semperoper" in Dresden; and June 26 in Naples' Teatro Nuovo, translated into Italian by Enrico Golisciani; July 10, Monaco and Bavaria's Staatstheater am Gärtnerplatz; and on December 18, 1876, it premiered in the United Kingdom at London's Alhambra Theater.
Characters:
Gabriel von Eisenstein, Banker (Tenor)
Rosalinde, Eisentein's wife (Soprano)
Adele, Rosalinde's maid (Soprano)
Ida, Adele's sister (Soprano)
Alfred, a tenor (Tenor)
Dr.Falke, a notary (Baritone)
Orlofsky, a Russian prince (Mezzosoprano)
Frank, Jail Director (Bass)
Dr. Blind, lawyer (Tenor)
Frosch, jailer (Actor)
Ivan, Orlofsky's servant (Actor)
"Die Fledermaus" Operetta in the "Bylis" theatre of Fier – 15 & 16 November, 19:00
NTOB Orchestra
Conductor – Deniola Kuraja
Director – Renato Zanella
As/director – Ada Gurra
NTOB Ballet Troupe
Ballet Artistic Director – Manjola  Hasani
Set Designer – Bashkim Zahaj
Costume Designer – Enada At' Nikolla
Choir Conductor – Dritan Lumshi
Concert maestro – Etrita Ibrahimi, Ingrid Pulizo
Gabriel von Eisentstein – Denis Skura
Rosalinde – Renisa Laçka,  Nina Muho
Alfred – Armaldo Kllogjeri
Adele – Rovena Xhelili, Ramona Tullumani
Frank – Erlind Zeraliu
Orlofsky – Vikena Kamenica
Falke – Solen Alla
Blind – Gilmond Myftari
Ida – Simona Karafili
Frosch – Xhieldo Hyseni
Corépétiteur: Alisa Gjoni
Main Soloists: Adela Muçollari and Dion Gjinika
Ballet Troupe:
Isida Mollaymeri
Elona Dervishi
Jonida Onuzi
Fatjon Lito
Anxhelo Muçollari
Kristi Dushmani
Brikena Mehmetukaj
ACT I
From outside comes the voice of tenor Alfred, serenading his old flame Rosalinde. At that moment, chambermaid Adele appears reading a letter. Her sister, Ida, who is a dancer, has invited her to a party organized by wealthy Russian prince Orlofsky. To get to the ball, she has to steal a dress from Rosalinda. Alfred, who continues to sing at the meantime, has had a sentimental affair with Rosalinda, several years before she got married. Adele tries to procure her free afternoon, that's why she tells her mistress she must visit a sick aunt. Rosalinde refuses to let her go, as Adele has to stay home because her husband, Gabriel Einsensten, has to spend several days in jail to pay for a light sentence. Adele starts crying over the fact that she can't go to the party, but has to stay home to care for her mistress. Einsenstein argues with his lawyer, Blind, about the fact that his sentence has been increased by three more days. Before he goes to serve his sentence, Einsenstein will consume his last pre-sentence lunch, so he sends Adele to pick up the most expensive food at their favorite restaurant. At that moment, comes Dr. Falke, Einsenstein's close friend, who invites him to the party hosted by Prince Orlofsky. Einsenstein agrees, as prison can wait a little while. He reminds Dr. Falke's the last ball where he was dressed as a bat. Adele comes and brings food for Einsensten. Suddenly Rosalinde remembers that Adele must go to visit her aunt and gives her permission to leave, while time comes for Eisenstein to go to prison serve his sentence. They leave, but in fact they both rush to Prince Orlofsky's party. Left alone, Rosalinde takes advantage of the opportunity to spend some time with Alfred remembering their love story. At this moment, the prison director appears to pick up Eisenstein. Embarrassed, Alfred pretends to be Rosalinde's husband, Eisenstein, and leaves with the prison director.
ACT II
The party has begun at Prince Orlofsky's home. The two sisters meet at the party. Ida is surprised by her sister's presence. She asks her why she was surprised when she herself wrote a letter inviting her to the party. Ida responds that this is probably a joke, because she didn't send her any letters. She even states that a waitress like her cannot attend parties of this class and therefore decides to introduce her sister as a debuting actress. Prince Orlofsky appears accompanied by Dr. Falke, confessing to him that although he is rich, he is not happy and cannot laugh. But the doctor promises that the surprises will be very pleasant during his party and during this time he whispers the plan for the prey, Eisenstein. They both meet sisters Adele and Ida. Adele introduces herself as an actress named Olga. Eisenstein has come to the ball wearing Marquit Renard's mask. Falke introduces cavalier Chagrin. Of course, he is no one else but prison director Frank. Eisenstein and the prison director introduce themselves to each other without actually knowing who they are. Eisenstein flirts with Adele, while the Hungarian Countess who is really none other than Rosalinde shows up at the ball.
Falke tells her that Eisentein is not in jail, but he is at this party. Eisentein likes the so-called (disguised) countess very much and begins to seduce her by showing her the watch with which he has had great success with women.
He tries to court the Countess, who is bursting with anger, but continues to play her role in order to take the watch as proof of her husband's infidelity.
Adele and Orlofsky ask Dr. Falke when he'll start his joke called "The Bat". The nearby Eisenstein approaches to tell the following story.
"In a masquerade ball, Mr. Doctor appeared as a drunk bat. As he was, wearing the bat suit, I sent him under a tree in the city park for him to spend the night. In the morning, to get home, he had to go through the city wearing his bat suit. When people saw him, they wouldn't stop laughing."
Orlofsky asks: "He's not avenged on this joke yet?!"
Eisenstein: "He has no way, but anyway I have to be very careful."
ACT III
Frosch the jailer is vexed by the late arrival of his boss, Frank, and by the nonstop singing of Alfred in cell number 12. Frank finally appears, tipsy and enraptured by memories of his magical evening posing as an impresario. Ida and Adele arrive, per Falke's instructions. Adele hopes Frank might further her stage aspirations. Frank sends them off and then admits Eisenstein, who says he has come to serve his sentence. He is surprised to learn his cell is already occupied by a man who claims to be him and who was found in his own apartment.
Blind arrives, claiming he was summoned by the man in cell 12 to handle a case of false arrest. Determined to get to the bottom of the matter, Eisenstein snatches Blind's cloak, glasses, and wig to disguise himself as the lawyer and confront the impostor. At that moment, Rosalinde rushes in. She tries to secure Alfred's release and asks "Blind" to press divorce charges against her errant husband, but is offended when the "lawyer" seems to take Eisenstein's side. Dropping his disguise, Eisenstein accuses his wife of promiscuity, at which point Rosalinde produces his watch.
All the guests start singing: "Oh bat, oh bat, leave thy victims."
Falke explains: "All that brought you distress was a joke I made, a fabrication."
Others respond:"And we all played the part"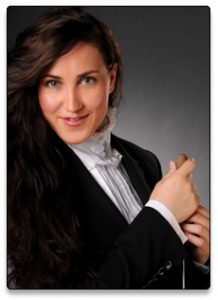 Deniola Kuraja – Conductor
Born in Durrës, Albania, Deniola Kuraja began her musical education in piano at the "Jan Kukuzeli" music school in her hometown. She received her Bachelor degree in Piano at the Art University in Tirana, which was followed by further srudies in Italy and Germany. Her artistic activity as a soloist extends to several collaborations with the orchestra of NTOBFE, RTSH, and the University of Arts under the conduction of Rifat Teqja, Zhani Ciko and Alqi Lepuri. Deniola Kuraja is the winner of several awards, such as first prize in the competition "Young Pianist", twice winner of the third prize in national competitions "Tonin Harapi" and "Çesk Zadeja", and received a diploma award in the competition "Nikolla Zoraqi". Professional experiences include being co-répétiteur of the flute class at the University of Arts, co-répétiteur at NTOBFE, and she would then head towards conducting. The end of 2007 finds her engaged with the German opera "Der Zwerg" by Alexander Zemlinsky, produced at the "Macedonian Opera and Ballet". Since May 2008, in addition to working as a co-répétiteur at the University of Music, Drama and Media in Hannover, she has deepened her experience as a conductor there, where she has also completed her studies. During this period she conducted a symphony concert with the Hildesheim Theater Orchestra and was an assistant conductor in Offenbach's "Hoffmann Tales" at NTOB. Invited to the RTSH Symphony Orchestra, conductor at "The Merry Widow" from Lehar, as well as at the "Grand Gala" at NTOBFE, Deniola Kuraja is a solo/co-répétiteur with the obligation to conduct at the Hannover State Opera House.