The National Theater of Opera, Ballet and Folk Ensemble premieres Giacomo Puccini's opera "La Boheme" with a libretto by Giuseppe Giacosa and Luigi Illica, on March 16, 17, 18, 19 at 19:00 at the Palace of Congresses.
This is the first opera production for the January-June 2019 season, which marks the culmination of the young creators and artists' commitment to an opulent production, in collaboration with NTOB soloists and internationally acclaimed singers.
The premiere of the opera "La Boheme" can be called the next production of young Albanian artists, who have become part of the largest art scene in the country in the last three years of NTOB. This time, the new artists are joined by the trust that NTOB has in young creators.
The direction of this production is entrusted to a young director, Ada Gurra, who marks for the first time in her career, the execution of an operatic production of this magnitude. The set design is also entrusted to another young talent, Renold Sula.
The NTOB Orchestra will be conducted by Italian conductor Lorenzo Tazzieri in all four nights of the show.
NTOB soloists interpret alongside the young soloists engaged with the theater in the last three years, and with the participation of internationally renowned guest opera singers, Giussepe Tomaso and Gocha Abuladze.
The costumes are work of designer Ardi Asllani.
The leading roles in the four nights of La Boheme's opera performance at the Palace of Congresses will be performed as below:
March 16:
Mimì – Eva Golemi
Rodolfo – Denis Skura
Marcello – Armando Likaj
Musetta – Dorina Selimaj
Colline – Xhieldo Hyseni
Schaunard – Solen Alla
Benoit – Genc Vozga
Alcindoro – Bledar Domi
Parpignol – Glerson Hoxha
March 17:
Mimì – Nina Muho
Rodolfo – Armaldo Kllogjeri
Marcello – Gocha Abuladze
Musetta – Ramona Tullumani
Colline – Bledar Domi
Schaunard – Ogert Islami
Benoit – Genc Vozga
Alcindoro – Sokol Hidersha
Parpignol – Glerson Hoxha
March 18:
Mimì – Renisa Laçka
Rodolfo – Giuseppe Tommaso
Marcello – Armando Likaj
Musetta – Dorina Selimaj
Colline – Xhieldo Hyseni
Schaunard – Solen Alla
Benoit – Genc Vozga
Alcindoro – Bledar Domi
Parpignol – Glerson Hoxha​
March 19:
Mimì – Simona Karafili
Rodolfo – Denis Skura
Marcello – Gocha Abuladze
Musetta – Ramona Tullumani
Colline – Bledar Domi
Schaunard – Solen Alla
Benoit – Genc Vozga
Alcindoro – Sokol Hidersha
Parpignol – Glerson Hoxha
Synopsis:
At the end of the XIX century in Paris, four friends are living together in a loft. Rodolfo and Marcello are at home working when one of the young men, the musician Schaunard, comes in and they decide to eat at a nearby restaurant. The poet Rodolfo does not accompany them because he must finish his writing, but is interrupted by Mimì, a seamstress who lives next door to him. They are drawn to each other at first glance and head for the restaurant together, where his friends are waiting. Marcello, Rodolfo's friend, was flirting with his ex-girlfriend Musetta, who forces her companion to pay the bill for everyone. Musetta and Marcello later live together, like Rodolfo and Mimì, who suffers from tuberculosis and wants to separate from Rodolfo because he thinks he can't help her to heal. Musetta separates from Marcello and the four friends return to their lives in the attic. They are visited by Musetta, who is accompanied by Mimì. Mimì, although she is now rich, when she feels death approaching, goes to her only love, Rodolfo. She wants to die in his arms, surrounded by her true friends. Musetta, Marcello, Schaunard and Colline join in a final hug as Rodolfo cries over Mimì's lifeless body.
Composer – Giacomo Puccini (life and work)
22 December 1858 – 29 November 1924
Giacomo Antonio Domenico Michele Secondo Maria Puccini was an Italian opera composer who has been called "the greatest composer of Italian opera after Verdi".
Puccini's early work was rooted in traditional late-19th-century romantic Italian opera. Later, he successfully developed his work in the realistic verismo style, of which he became one of the leading exponents.
Puccini's most renowned works are La bohème (1896), Tosca (1900), Madama Butterfly (1904), and Turandot (1924), all of which are among the important operas played as standards.
The Puccini family was established in Lucca as a local musical dynasty by Puccini's great-great-grandfather – also named Giacomo (1712–1781). This first Giacomo Puccini was maestro di cappella of the Cattedrale di San Martino in Lucca. He was succeeded in this position by his son, Antonio Puccini, and then by Antonio's son Domenico, and Domenico's son Michele (father of the subject of this article). Each of these men studied music at Bologna, and some took additional musical studies elsewhere. Domenico Puccini studied for a time under Giovanni Paisiello. Each composed music for the church. In addition, Domenico composed several operas, and Michele composed one opera. Puccini's father Michele enjoyed a reputation throughout northern Italy, and his funeral was an occasion of public mourning, at which the then-famed composer Giovanni Pacini conducted a Requiem.
With the Puccini family having occupied the position of maestro di cappella for 124 years (1740–1864) by the time of Michele's death, it was anticipated that Michele's son Giacomo would occupy that position as well when he was old enough. However, when Michele Puccini died in 1864, his son Giacomo was only six years old and thus not capable of taking over his father's job. As a child, he nevertheless participated in the musical life of the Cattedrale di San Martino, as a member of the boys' choir and later as a substitute organist.
Puccini was given a general education at the seminary of San Michele in Lucca, and then at the seminary of the cathedral. One of Puccini's uncles, Fortunato Magi, supervised his musical education. Puccini got a diploma from the Pacini School of Music in Lucca in 1880, having studied there with his uncle Fortunato, and later with Carlo Angeloni, who had also instructed Alfredo Catalani. A grant from Queen Margherita, and assistance from another uncle, Nicholas Cerù, provided the funds necessary for Puccini to continue his studies at the Milan Conservatory, where he studied composition with Stefano Ronchetti-Monteviti, Amilcare Ponchielli, and Antonio Bazzini. Puccini studied at the conservatory for three years, sharing a room with Pietro Mascagni. In 1880, at the age of 21, Puccini composed his Mass, which marks the culmination of his family's long association with church music in his native Lucca.
Early career and first operas
Puccini wrote an orchestral piece called the Capriccio sinfonico as a thesis composition for the Milan Conservatory. Puccini's teachers Ponchielli and Bazzini were impressed by the work, and it was performed at a student concert at the conservatory on 14 July 1883, conducted by Franco Faccio. Puccini's work was favorably reviewed in the Milanese publication Perseveranza, and thus Puccini began to build a reputation as a young composer of promise in Milanese music circles.
Characters of La Boheme:
Rodolfo, a poet – Tenor
Mimì, a seamstress – Soprano
Marcello, painter – Baritone
Schaunard, a musician – Baritone
Colline, a philosopher – Bass
Musetta, a singer – Soprano
Benoît, their landlord – Bass
Alcindoro, a state councillor – Bass
Parpignol, a toy vendor – Tenor
A customs Sergeant – Bass
ACT I
Christmas Eve, in a tiny room at the top of a house in Paris's Latin Quarter
From the attic window, Rodolfo gazes at the snow that has covered the roofs of Paris as Marcello paints. Tired of the cold, Rodolfo desperately curses the chimney. Marcello suggests warming up by burning a chair, but Rodolfo prefers to burn the manuscript of the tragedy he was working on. When Colline enters the room, he also tries to warm himself by the ashes of the residual fire. Shortly afterwards, however, Schaunard comes with food, firewood, cigarettes and wine, which he received as payment from a wealthy English lord. The four friends decide to celebrate Christmas in the Latin Quarter. A door knock is heard. Benoît, the landlord, had come to take the lease. The four invite him inside, get him drunk with wine and flattery, pretending to be scandalized by his love adventures, they get him out. Marcello, Schaunard and Colline walked out while Rodolfo, who had to finish an article, stayed in the room. A knock was heard at the door, it's Mimì, their neighbor who enters the room. Her candle is off. Seeing her heavy breathing from climbing the stairs, Rodolfo offered her a chair and a bit of wine as he noticed her pale face. After recovering, Mimì decided to leave the attic, but realized that she had lost the keys to her room. Rodolfo helped her search for it, but when he found it he hid it in his pocket so that the girl could stay with him a little longer. He grabs her hand ("Che gelida manina") and briefly tells his story. He is a poor poet with a difficult life. Mimì responds by recounting her life ("Mi chiamano Mimì") and telling him about her dreams. Rodolfo kisses her ("O soave fanciulla") and invites her to accompany him to the Latin Quarter.
ACT II
Latin Quarter
Walking in the streets crowded by vendors and passers-by, the four friends go towards Café Momus. Rodolfo gifts a pink hat to Mimì and introduces her to his friends. From afar Marcello spots Musetta, with whom he had been arguing but still loved. Accompanied by longtime State Councilor Alcindoro, Musetta feels the gaze of Marcello upon her, but pretends to not notice him. She seeks to draw his attention by singing a provoking waltz tune ("Quando me'n vo"). She pretends that her shoes are hurting her feet and sends Alcindoro to buy her another pair. Meanwhile, Marcello grabs Musetta in his arms. When the old state councilor returns, he is left alone with a huge bill to pay. 
ACT III
At the gates of D'Enfer
Sometime later. Early in a cold winter morning, customs officers open the D'Enfer town gate to let street cleaners, carriage drivers and villagers enter. Loud laughter can be heard from inside a cabaret. At that moment, Mimì reaches the humble and crumbling gate as well. She seeks for Marcello, who comes out of the cabaret and is surprised to see her there. The girl tells him about her decision to separate from Rodolfo, whose jealousy is making her life impossible. Mimì hides when she sees Rodolfo coming out of the cabaret, who tells his friend the real reason for their split. The fact is that he cannot afford to provide Mimì, whose health is increasingly deteriorating, with the health care she needs. Mimì, who has heard it all, comes out of her hiding and Rodolfo hugs her gently. Hearing Musetta's shameless laughter, Marcello rushes back into the cabaret. Mimì bids farewell to Rodolfo, leaving her pink hat to him as a memory. But neither of them can separate and decide to stay together until April, when blooming begins. Musetta and Marcello meanwhile bitterly argue with each other. 
ACT IV
At the attic
A few weeks later. Rodolfo and Marcello attempt to focus on their work but without success. Their minds are full only with thoughts of Mimì and Musetta, whom they miss. The two friends try to hide their sadness ("O Mimì, tu più non torni") when Schaunard and Colline, who have brought in some small supplies, arrive. The quartet pretends to celebrate with the little they have, but the scene is abruptly interrupted by the entrance of Musetta, that has brought Mimì, who is now in a depressive state. Rodolfo puts Mimì on the bed and grabs her hands to warm them. Musetta sends Marcello to sell her earrings to buy painkillers and call a doctor as she herself goes out to look for a muff. Colline sacrifices his old coat and goes outside to pawn it while Schaunard leaves the loft. Mimì is left alone with Rodolfo ("Sono andati? Fingevo di dormire") to whom she declares her love one last time. Together they recall the happiness of their first encounter, when Mimì realized that Rodolfo had hidden her key, but acted as if she had not noticed. Their friends run in again. Mimì falls asleep and dies quietly, leaving Rodolfo in deep despair.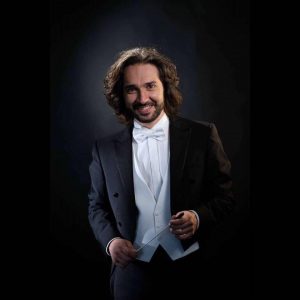 Lorenzo Tazzieri will conduct the NTOB Orchestra in all four nights of the opera.
Born in Genoa in 1985, Maestro Lorenzo Tazzieri is one of the most accredited exponents of the new Italian generation of conductors.
At the age of 33, he is the main director of the Tokyo Metropolitan Opera Foundation, artistic director of the Genoa International Music Youth Festival, of the Batumi International Music Festival (Under Sky) and of the Chile Opera Festival, the country's first opera festival.
He was recently the youngest musician awarded by the Mayor of Genoa and the President of the Senate of the Italian Republic with the title of Ambassador of Genoa in the World.
MAIN COLLABORATIONS
His opera debut took place in March 2010 with J. Massenet's Werther at the Wielki Theater in Poznan.
His rich career path, especially abroad, brings him into contact with various realities by laying the foundations of prestigious collaborations: in Japan with Yokohama Minato Mirai Hall, Nagoya Civic Concert Hall, Sendai Opera House (La Bohème) and Toyota City Concert Hall (La Bohème, La Traviata and L'Elisir d'Amore); in China with Harbin City Concert Hall and Deluxe Concert Hall (Chengdu); in the Middle East Amman Opera Festival (La Traviata and La Bohème); in South and Central America with Biobio Theater – Orquesta Sinfónica Universidad de Conceptión (Madama Butterfly), Gran Teatro Nacional di Lima (Madama Butterfly and Gala Vedi / Puccini), Municipal Theater of Lima (Pagliacci / Adiós a la Bohemia and Don Giovanni), Pedro II Theater of São Paulo (Cavalleria Rusticana), Miguel Angel Asturias Nacional Theater (Guatemala City), Ruben Dario Nacional Theater (Managua), Teresa Careño Theater (Caracas), Cusco Municipal Theater, Orquesta Nacional de Guatemala, Camerata Bach ( Managua) and Orquesta Sinfonica de Cusco.
The activity in Russia and Eastern Europe is also intense: he directs a Gala dedicated to Paganini in Saint Petersburg on the occasion of the opening of the World Economy Forum (Mikhailovsky Palace), in Moscow at the International House of Music (Cavalleria Rusticana and Zanetto ), at Tirana Opera and Ballet Theater and Azerbaijan State academic Opera and Ballet Theater in Baku (La Boheme) and at Banská Bystrica's Štátna Opera with La Traviata, at Lviv City Hall with the Lviv Philharmonic Orchestra, at Batumi Arts & Musical Center (Georgia) with Pagliacci and Cavalleria Rusticana and, at the Opera House, the opening Gala of the Batumi International Music Festival (under Sky), and at the Opera Miniatyura Festival of Kamyanets-Podilsky with Turandot; significant collaboration with the Philharmonic de Stat Arad for which in 2011 takes care of the installation and performs Cavalleria Rusticana obtaining a success that leads him to be invited regularly as Guest Director even in the following years.
Also very active in Italy, we note the ongoing relationship with the Zandonai Theater (Il Trovatore in 2019, Madama Butterfly in 2018, La Traviata in 2017, Tosca in 2016 and Il Barbiere di Siviglia in 2015), the collaboration with Musica Riva Festival and participation in the Concerto in Altura in Bardonecchia.
In 2011, on the occasion of the celebrations of the 150th anniversary of the Unification of Italy, following the artistic assignments by the Italian Ministry of Culture and the Italian Cultural Institutes abroad, he received important consensus from the public and critics by directing philharmonic national and international theaters.
In the same year, on the occasion of the 60th anniversary of the Italian Cultural Institute of Caracas, he performs concerts with the Orquesta Sinfónica de Venezuela at the Teatro Cachao and with the Orquesta de Aragua at the Casa Italia Maracay headquarters. In 2017, 2018, 2019 he is on tour with the Sichuan Philarmonic Orchestra in China, Jordan, Georgia and Italy.
In Lima he directs the Orquesta and Coro Nacional de Peru performing a Verdi Gala to celebrate the bicentenary of the composer from Busseto at the Museo de la Nación.
Upcoming engagements
After inaugurating with La Traviata the first opera festival of the Arab world (Amman Opera Festival) in the presence of the Royal Family of Jordan, he will conduct "Il Barbiere di Siviglia" in the Amman Roman Amphitheater next July. There are also lyric shows dedicated to Puccini at the Shanghai Concert Hall, La Traviata of the Banská Bystrica State Opera, Rigoletto at the Deluxe Hall of the Chengdu Concert, "Otello" at the Plovdiv Roman Arena, "Madama Butterfly" at the Chili Opera House, "Il Trovatore" at Zandonai Theater and a Paganini Gala with the winner of the 2018 edition of the Paganini Genova Contest.
EDUCATION
Lorenzo Tazzieri began his musical studies at the age of 6, continuing his preparation at the Niccolò Paganini Conservatory (GE), where he studied first violin and then, under the guidance of prof. G. Carlascio, piano.
He studied at the Pyotr Ilyich Tchaikovsky Conservatory in Moscow with Elena Nathanson specializing in the Russian repertoire, and in the meantime he studied chamber music with Maestro Massimiliano Damerini. His orchestral conducting studies took place under the guidance of the Masters Donato Renzetti and Gilberto Serembe and of the Maestro Roberto Tolomelli of which he becomes assistant collaborating in numerous titles: Nabucco, Aida, Norma, Bellisario, Cinderella, Raymonda, Don Carlos, Madama Butterfly, La Cenerentola.
OTHER PROJECTS
Lorenzo Tazzieri has always believed and invested in the training and promotion of young musical talents.
In 2013, in parallel with his professional activity, he founded the Associazione Allegro con Fuoco and launched Operàpolis, a musical and educational project whose goal is to develop and redeem culture and society through collective musical art. In a short time, the conditions for the creation of three youth teams were created: Orchestra, Chorus and Simon Boccanegra Opera Company.
Alongside the concert production, he added numerous training activities focused on the launch of ensemble music in schools and created a Cultural Center dedicated to the formation of orchestras and children's choirs. Also in 2013, from the collaboration with the Indian sitar and tabla player Avaneendra Sheolikar and Sandesh Popatkar, "L'amor che move le alte stelle" was born, a CD with unpublished pieces of mixing between traditional Indian music and western symphonic music.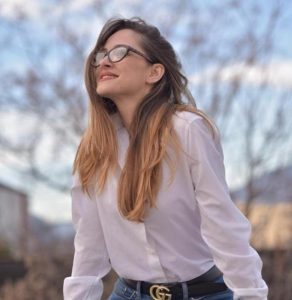 Ada Gurra – Director of the opera
Ada Gurra was born on July 28, 1986 to a family of artists. Her mother was a violin teacher and her father a violinist at the Folk Song and Dance Ensemble. Her grandfather Muharrem Gurra was continuing his career as one of the best folk music makers in Albania. The whole family had a strong influence on the artistic development of the director from a very young age. She would receive her first lessons in violin and it would be her father who would teach her the first techniques of instrumental execution.
Over the years Ada Gurra, besides studying, would engage in the Pioneers' Palace, this time unveiling another talent, singing. Ada would perform the works of the best composers and musicians in the country, such as Adi Hila or others at the children's festivals of the time. This made Ada disconnect from her violin studies and attend the Jordan Misja Artistic Lyceum of Tirana for canto.
Upon completion of the Lyceum, Ada earns the right to study canto at the University of the Arts under the direction lecturer Mariana Leka. During this time she devoted herself to full-time studies. Like any young Albanian with the desire to make their dreams come true, Ada was increasingly expressing her interest in opera and belcanto, highlighting another of her talents. The participation in behind-the-scenes of the implementation of the Academy's operatic projects and her familiarity with the styles and techniques of the Albanian professional directors made it possible for her to devote herself to the operatic direction.
Upon completion of her studies at the University of the Arts she moved to Italy, where she earned a degree in opera studies at the "Academia per l'Opera Italiana" in Verona in the classes of renowned lecturers such as Gianfranco De Bosio, also a world-famous filmmaker, as well as Carlo Saletti and Daniele Abbado. At the same time she would attend Pier Luigi Pizzi's master classes in costume and set design.
During her years of study in Italy, Ada Gurra was engaged for two seasons at the Arena di Verona as assistant director in the production of "Madama Butterfly" and "Il Trovatore" directed by Franco Zefirelli and the following year she would be the personal assistant of the director and her lecturer Gianfranco De Bosio with whom she worked on the opera "Nabucco". During her studies, she also attended various workshops at the Venice Theater "La Fenice" and Bari's "Petrucelli" on "Rigoletto" and "La Cenerentola" directed by Daniele Abbado.
After working as an assistant director in operas by internationally renowned directors at the Arena Di Verona, Ada Gurra returns to Albania. In 2011 thanks to the collaboration between the National Opera and Ballet Theater in Tirana and the Verona Academy "L'Opera Italiana" Ada Gurra is entrusted with the world premiere of the opera "Kaspar Hauser".
From then on, Ada Gurra would engage in NTOBFE as an assistant director in several operas such as "Turandot" directed by Nicola Zorzi, "Skanderbeg" directed by Carlo Saletti, "Ali Pasha Von Janina" directed by Patrizia Panton, "Gianni Schichi" directed by Gëzim Myshketa, "Suor Angelica" directed by Marco Pucci Catena, "I Capuleti e i Montecchi" directed by Aylin Bozok, "La Boheme" directed by Andrea De Manincor, "La Traviata" directed by Magdalena Fuschenberg, "Carmen" directed by Gëzim Myshketa, "Die Fledermaus" directed by Renato Zanella and has cured all the directorial reprises of these operas in the National Theater of Opera and Ballet's artistic calendar during the last three years.